Grant Thompson Joins Forces with Lee Faulk Racing for 2021 CRA Speedfest
Grant Thompson Joins Forces With Lee Faulk Racing for 2021 CRA Speedfest
December 18, 2020 - Mooresville, N.C. - 14-year-old rising racing star Grant Thompson of Mobile, Alabama will team up with Lee Faulk Racing to compete in the $5,000 to win, 125-lap Pro Late Model portion of the 2021 CRA SpeedFest weekend on January 22 and 23 at Crisp Motorsports Park in Cordele, Georgia.
The SpeedFest effort will be the first time the talented young racer has teamed with LFR. Thompson ended this season with the biggest win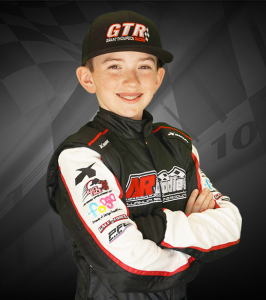 of his young career in this month's Pro Truck portion of Snowball Derby weekend at Five Flags Speedway in Florida driving for Curt Britt Motorsports and a 12 place finish in his Snowflake 100 Pro Late Model debut on the same weekend driving for Augie Grill.
Thompson is the 2020 Crisp Motorsports Pro Truck Series champion, and he also won the Pro Truck Series championship at Five Flags Speedway in Pensacola, Florida. Out West, he picked up the win in the 2020 Turkey Shoot Junior Late Model race in Tuscon, Arizona last month as well.
"We are very excited to be working with Grant at Speedfest," said LFR Crew Chief Michael Faulk. "We have been watching him develop over the past couple of years with the help of great people. With Grant's ability and our equipment, we feel like we will be a contender. We are looking forward to it and can't wait to get started."
Grant's father, John Thompson, was smiling over the weekend at the thought of a comment from several years back turning into an opportunity. "It's funny how things come full circle," he chuckled. "About four years ago Grant and I visited Lee Falk Racing in North Carolina and we were impressed with their operations and the successes that they had achieved. I remember saying that maybe someday Grant can pilot one of your cars. That day is here, and we are so excited to have the privilege to drive for Lee Faulk Racing at the 2021 CRA Speedfest at Crisp Motorsports Park."
For more information about Grant Thompson, visit …
Grant Thompson Racing: www.GrantThompsonRacing.com
Facebook: https://www.facebook.com/GrantThompsonRacing/
Instagram: https://www.instagram.com/grantthompsonracing/
Lee Faulk Racing: https://leefaulkracing.com/
Race Face Brand Development: https://racefacebranddevelopment.com/

Source: Race Face Brand Development on behalf of Grant Thompson Racing

About Race Face Brand Development LLC

Race Face Brand Development is changing the way Motorsports Marketing and Promotions are done for drivers, teams, and corporate entities on and off the track. Our team has nearly 100 years of combined experience in driver coaching, media, & marketing
http://www.racefacebranddevelopment.com | Media Room