Grant Thompson is a talented 14-year-old driver from Mobile, AL.  In 2020 Grant has won 2 Track Championships.....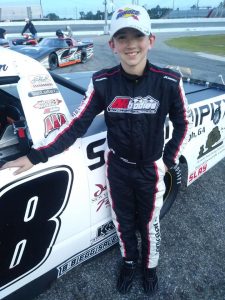 SPONSORSHIP BENEFITS

"A RACE CAR IS MORE THAN JUST A ROLLING BILLBOARD"

Companies can improve how they are viewed by becoming affiliated with well-liked sports personalities. Professional auto racing is the largest spectator sport in the world and reaches a consumer market that crosses all boundaries of age, race and gender. Sponsoring a race driver is an excellent way to shape the buying attitudes of this vast demographic and will help to generate a positive reaction towards your company.
IS SPONSORSHIP RIGHT FOR YOUR COMPANY?
A DIVERSE, RICH, AND MULTI-DIMENSIONAL MARKETING PLATFORM

Today, companies across almost every industry use sponsorship as a core element of a larger integrated branding strategy. In addition to building consumer awareness and loyalty, motor-sports sponsorship also drives real business results through unique and exclusive corporate entertainment, business to business initiatives and internal programs for recruiting and incentives.
"SPONSORSHIP AS OPPOSED TO MEASURED MEDIA IS THE ONLY MARKETING CHANNEL THAT CUSTOMERS INVITE INTO THEIR LIVES. IN FACT, THEY PURSUE IT." - CIE NICHOLSON, FORMER SVP AND CMO, PEPSICO
ABOUT MOTORSPORTS SPONSORSHIP
MOTORSPORTS AS A MARKETING PLATFORM PROVIDES MANY POWERFUL ATTRIBUTES TO A BRAND OR COMPANY, INCLUDING:
• Increased brand awareness, image, and loyalty
• Connection with customers in a deep, emotional, and influential way
• Enhanced stakeholder engagement
• Unmatched hospitality and entertainment opportunities
• Money-can't-buy internal and external incentive awards
• At-track product promotion/sampling/data capture opportunities
• Boost endemic and non-endemic public relations
• Provide a powerful corporate rallying point
• Bring new energy to corporate functions
• Integration with other marketing/advertising programs to leverage value
"The rule of thumb is that putting $1,000 behind a race event or race team will
generate the same exposure as $10,000 in advertising." WALL STREET JOURNAL